ROS Rack Repair System Main Features
An incredibly unique process that returns damaged racking uprights to their original form in less than 30 minutes.
●  Racks can remain loaded whilst the repair is carried out
●  Save up to 80% of the cost of replacement, whilst minimising operational disruption
●  Over 150,000 upright repairs carried out each year by the ROS Group of companies
●  Certified and accredited to European Standard
How It Works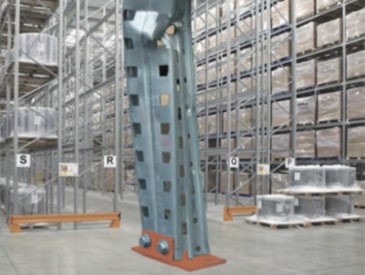 One of our highly trained and professional teams of ROS™ technicians carry out an initial inspection of the damaged upright. This is to ensure that the level of damage falls within the stringent safety parameters governing the use of our patented, certified, upright repair system.
A custom, precision-engineered die is secured to the damaged upright and controlled hydraulic pressure is applied using our state-of-the-art process. The repair process works three dimensionally, to ensure correct re-profiling of the front face, side walls and corners.
After the repair process is completed, the hydraulic pressure is gradually released and the precision-engineered die is retracted. The repaired upright is then revealed, having acquired its original shape and form, with no loss of strength, fit or function. Guaranteed!